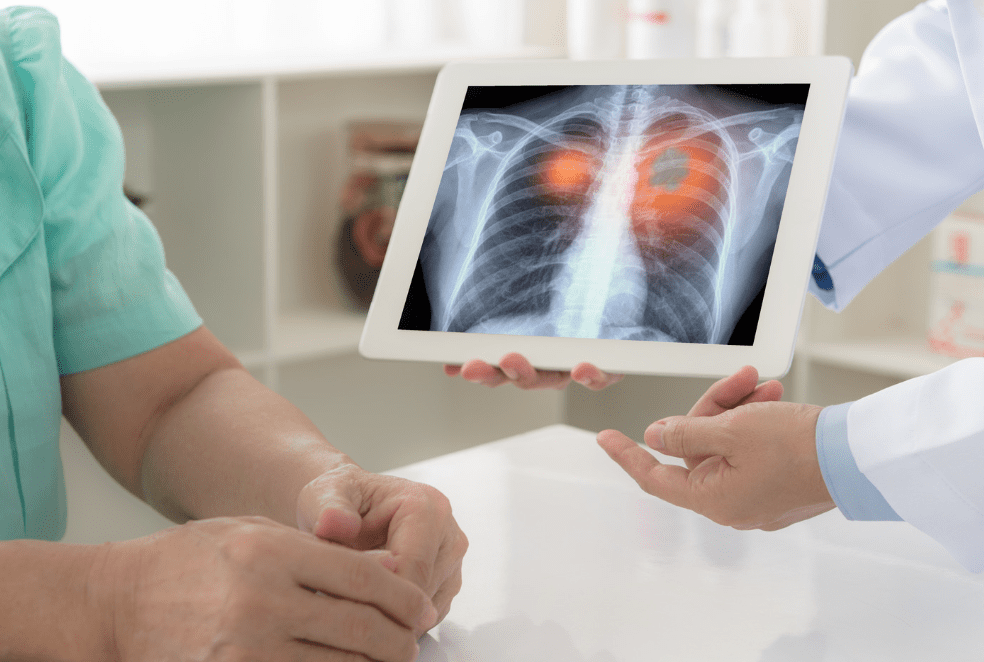 Lung Cancer Screening
in the Central East Region
Lung cancer is one of the most common and preventable cancers. It is also the leading cause of cancer death in Ontario. Smoking is the biggest risk factor for developing lung cancer.
It is never too late to quit smoking even if you have cancer. Quitting smoking is one of the best things you can do to help your cancer treatment work better.
Ontario Lung Cancer Screening Program
You may be eligible for lung cancer screening if you are between 55 to 74 years of age and smoke cigarettes for 20 or more years over your lifetime (not necessarily in a row). You may still qualify for screening even if you have already quit smoking.
To find out if you qualify for lung cancer screening: 
Call the Lakeridge Health Oshawa Ontario Lung Screening Program at 905-576-8711 extension 34449 to make an appointment with a nurse, or

Ask your family doctor or nurse practitioner to refer you to the Ontario Lung Screening Program.
The Ontario Lung Screening Program Nurse will ask you questions about your smoking history to help decide if lung cancer screening is right for you. 
If you qualify for lung screening, you will be offered a test called a "low-dose CT scan". This is the best way to find a lung cancer early when treatment has a better chance of working. 
Watch this video to learn more about the Ontario Lung Cancer Screening Program.
Lung Cancer Patient Screening Story
Watch this video to hear about Nadine's cancer journey. In this video, she explains why lung cancer screening is so important. Nadine is a proud member of Alderville First Nation, a retired nurse, and a lung cancer survivor!
What you can do to reduce your risk of lung cancer
Do not smoke. Your risk of lung cancer increases the more you smoke and the longer you smoke.
Quit smoking. When you are ready to quit smoking, you don't have to do it alone. Making a quit plan and getting help increases your chances of quitting and staying smoke free.
Avoid exposure to second hand smoke if you are a non-smoker.
Reduce exposure to environmental risk factors for lung cancer such as air pollution, radon gas, and asbestos. You may also be exposed to metals, dust, fibres, arsenic, radiation, gases or other chemicals in your workplace that increase your risk of lung cancer. Your risk depends on how often and how much you are exposed to these environmental risk factors. Wear the right personal protective equipment like gloves and respirators when working in hazardous conditions to protect yourself.
Eat lots of fruits and vegetables to help reduce your risk of lung cancer.
Go to the websites listed below for more information on how to quit smoking: